Don't we all wish to study abroad and get exposure regarding our fields of study? I mean who doesn't right? But…that's not the problem.
The problem lies in the fact that when you hear someone say "Foreign University", the first thing that is most expected to come to your mind is "Expensive" but wait a second…… who said it has to be expensive and out of your budget??
The good news is that there's an ABUNDANCE of scholarships available, for international students, some specifically targeted towards "Pakistani students"- That just made you guys smile right?
Here, I've gathered some information regarding the scholarships offered by various countries, so waste no time and let's get going!!
CHINA- Say "N? h?" To New Academic Opportunities!!
Making the friendship bond more solid, China has been welcoming Pakistani students in almost all fields and degrees. To maintain the quality of education and access to easier for us, most programs are being offered in top-ranked, English Medium universities. China is the most-improved country in the Universities 21 Ranking of National Higher Education Systems in the year 2016, and moves up 4 places this year to be ranked 30th out of the 50 national systems in the sample. To compare, over the period 2013-2016, China shows the greatest improvement with an overall gain of 12 places over the four years!
New ray horizons of Pak-China friendship!
Hey! let's not forget The China Scholarship Council (CSC), , which is responsible for the enrollment of Chinese Government Scholarship programs, has handed us opportunities to new and exciting levels!!
It goes without saying that Pakistani students are fortunate in this matter, as they are being offered FREE education in top ranking universities of China on 100% funded scholarships- Amazing right?
Here's what HEC tweeted about this: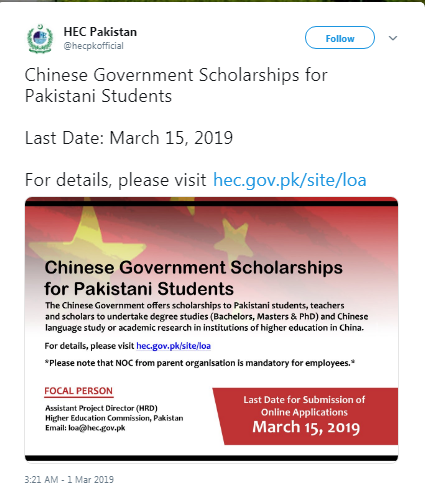 Bachelor's degree
Partial scholarship
Coverage: Tuition, Registration Fee, Fees for Basic Learning Materials, etc.
Duration: 5 academic years
Grant type: A Partial Waiver of Fees and Partial Cash

Bachelor's degree
Full scholarship
Coverage: All expenses (minus personal)
Amount: Subsidy 1500; Living Allowance: 1700/month
Eligibility: Master's degree
Duration: 3-5 academic years
Grant type: A Partial Waiver of Fees and Partial Cash

Mater's and PhD programs
Eligibility:
Bachelor's degree holder under the age of 40 when applying for master's programs
Master's degree holder under the age of 45 when applying for doctoral programs.
Application period: December 15, 2018 - April 10, 2019
Bachelor's program
Full scholarship
Amount: One-off settlement subsidy: 1500; Living Allowance: 1700/month
Duration: 2-3 academic years
Notification Date: Early June Admission Documents Mailing
Date: End of June

UNITED STATES OF AMERICA - A Beam of Light for Higher Education!
United States of America ranks 17th in educational performance, as suggested by the a report, The Learning Curve, developed by the Economist Intelligence Unit, and ranks seventeenth out of forty countries ranked in overall educational performance. Moreover, the number of Pakistanis studying in the United States for the 2014-15 academic years rose to 5,354, an increase of 8.5 percent over the previous year, according to the annual "Open Doors Report".
As great as that sounds, the country shares a great economic corridor in Pakistan and shares many scholarships and grants to Pakistani Students, ranging from Graduate, all the way to Doctoral degrees in some of the best universities in the world!
Here's a pie chard that shows the academic Level of International Students from 1979 to 2017. It clearly shows the increase in the influx of students in the past years:
Want to Know More? Here You Go!
Mentorship Program

The mentorship will pay a stipend in the fall and spring semesters at $250 per semester.
Application Deadline:
June 16, 2019
Generation Scholarship
Application Deadline:
May 26, 2019
The scholarship program provides need-based scholarships at $6,200 ($3100/semester).
MillerCoors Scholarship
Application deadline:
May 12, 2019
One-year scholarship of up to $6,700 for the 2019-2020 academic school year.
Eligibility Criteria
Successful applicants must be committed to serving Pakistan.
Minimum of five years of progressively responsible professional/work experience, with a Master's degree and a guarantee of re-employment upon return to Pakistan
Tentative Announcement: April
Duration: 10-12 months
Grantees start studies: Fall next year
Global Undergraduate
Tentative Announcement:
September/October
Two batches:
Fall and spring semester
Duration:
One semester - approximately half attend in fall and other half in spring
Grantees start studies:
Fall next year
Eligibility Criteria
Pakistani citizens
25 years or younger
UNITED KINGDOM- Diversity from across the world!
One of the world's leading destinations for international students, second only to the USA. UK universities are among the most recognized in the world, and have consistently paved their way and engraved their names in world rankings. UK higher education degrees and qualifications are recognized by employers and academics worldwide and we can tell you with pride that there are hundreds of scholarships they provide to Pakistani Students in specific.
No one's left behind!
It's fair to say that the UK is one of the world's most popular destinations to get higher education from; with an incredible influx of more than 500,000 international students enrolling each year!
Let's Get into the Details Without Further Ado!
Alumni Discount Scheme
Full-time:
available
Part-time:
available
Entry year:
2019/20
Best Foundation scholarships
These scholarships will be for students domiciled in Pakistan who are starting full-time Master's course at the University of Bradford in September 2019.
Undergraduate degree scholarships
50 scholarships worth 50% of your tuition fees and a 10% tuition fee discount.
Postgraduate master's degree scholarships
100 scholarships worth 25% of your tuition fees and a 10% tuition fee discount.
Postgraduate research degree scholarships
(Varies)
Think Big scholarship scheme
52 scholarships to international applicants for undergraduate and taught postgraduate degrees
Academic Achievement Scholarship
All students from Pakistan that begin the International Foundation in September 2015 will automatically be considered for the scholarship.
Covers the tuition fee rate at the Home/EU level cost with remaining tuition fee costs.
A partial stipend of £10,000 to contribute towards the scholar's living costs, by the HEC
AUSTRALIA - Ultimate Undergraduate Studies Experience Awaits YOU!
Australia promotes innovation, creativity and independent thinking throughout its top universities. Pakistani students who study and live in Australia soon find that their education is challenging, fun, and rewarding, all at the same time!
"All these opportunities got me Dizzy" WOAH!
Australia offers wide educational opportunities to Pakistani students in the form of various scholarships and grants, offering full and partial scholarships to many students wanting to acquire a wide diversity of degree levels!

As a Pakistani student in Australia, you'll get to live, grow and learn in a young, country full of opportunities, in terms of education and career. All of you, who successfully complete their desired degree, they will soon find that they are competitive in today's international job market!
Come On, You Don't Want to Miss them- Hurry up & apply!
One full tuition fee scholarship for a future water leader from selected countries parts of Asia.
Up to $56,739* and cover the following:
Full tuition fees for full-time study of the IWC Master of Integrated Water Management program.
living allowance ($27,596 in 2019) for two years for a Masters degree by Research
Three years for a Doctoral research degree
GELI Direct Entry Program (DEP) Scholarship
$1,000
Trimester 1 , 2 and 3 2019
Griffith International Distinction Scholarship
Outstanding international students who are completing an undergraduate degree at Griffith University
$6,000 in total
Trimester 1 , 2 and 3 2019
Griffith International Family Scholarship
For immediate family members of current Griffith students and alumni.
$1,000
Undergraduate
Scholarships valued at $7,500, $5,000 or 50% of tuition fees are awarded on academic merit
Post graduate
Scholarships valued at $7,500 or $5,000 and 50% of tuition fees are awarded on academic merit
FRANCE- Bonjour! Buckle-up for PhD and Post-Graduate Studies!!
YES, France and home to the beautiful Eiffel Tower and majestic Louvre Museum. What if told you that there's even more to this enchanting place? There are currently more than 250,000 international students in France; in fact, an estimated 10% of enrollments at French universities are international students! Many of these students are at graduate level (masters and doctoral studies) but the country offers an excellent environment for all international students for much higher educational degrees as well! France has 71 public universities, all funded by the national government itself and offer excellent education at a very affordable prices, along with many scholarships for Pakistani students specifically- You're surprised, aren't you?!
Deadline
: Applications must be received before June 30th for September intake and November 15th for January intake
EXCELLENCE: - 50%
GMAT OF 720 OR OVER
YOUR FEES: € 20,900*
MERIT: - 30%
BASED ON GMAT AND ACADEMIC POTENTIAL
FEES: € 29,260*
Canada- World Ranked University Scholarships Welcome You!
Canada, as commonly known, remains a popular destination for students planning on studying internationally—and for good reason! Canada has ranked as one of the top ten places to live in the world for over twenty years straight, I mean, it couldn't get better!
In fact, Canada is an increasingly popular option for students who want the quality of a North American education at a less expensive cost than they might find in the US, as the statistic proves that Canadian universities have more similarity to UK universities than they do to schools in the US!!
There are almost 100 universities in Canada, five of which—the University of Toronto, McGill University, University of British Columbia, Université de Montréal, and University of Alberta—are ranked among the top 100 in the world!!!
Look No Further! Canadian Scholarship Awards Are Here!
$5000/ 2000/1000 grants
Must be 18 years old
Wishes to study in Canada and US

President's Scholarship of Distinction
$2,000 Entrance Scholarship;
$1,500 International Experience Award
$1,500 Research Award
The Leakey Foundation Scholarship programs
Masters, PhD
Partial Funding
Human origins or Evolution.

International Society of Nephrology (ISN) Scholarship programs
Training & Short courses
Full Funding
Clinical Nephrology, Transplantation

Netherlands- A Bright Ray of Light for Your Bright Future!
Imagine boat trips with scenic views on beautiful lakes, moderate climate and clean air to breathe….that's what living in Netherlands feels like! Not only does it have top-ranked universities, but, it's also been ranked as a country with the "happiest people"
Let's speak some facts!
In the years 2014-15, it was estimated that students from 157 countries came to study in Netherlands, due to low education costs and high quality of life, according to this
source.
The admission fee for EU students starts at 1900 and goes up-to only 6000 for non-EU students- How amazing is that right? It brings me immense joy to tell you that Netherlands also provides a wide range of scholarships and grants for Pakistani students…..You wouldn't want to miss these!!
UM Holland-High
otential Scholarship Master Participating Master's programmes
Non-EU/EEA
UM Holland Refugee Scholarship
Master All, except MA Medicine and MA Physician-Clinical Investigator.
Orange Tulip Scholarship
The scholarship will be used to reduce your tuition fee to € 2,083 and pays for costs for visa
Orange Tulip Scholarship
- The scholarship consists of a reduction of the institutional tuition fee for non-EEA students- to €2,083 in 2019/2020).
Switzerland- Turn Your Holiday Destination into an Academic Destination!
Switzerland is home to chocolate, cuckoo clocks and more importantly, spectacular Alpine mountain ranges that are flanked by crystal-clear bodies of water such as Lake Geneva!
Thanks to the influences of nearby nations such as France, Italy and Germany, this country shows a truly international flavor; the country's four official languages are none other than German, French, Italian, and Romansh!
Being more than just an exquisite country to visit, this is also an immensely valued educational hub; giving off great scholarships for higher education degrees.
Switzerland also gives special grants and scholarships to Pakistani students and thus, it gives you opportunities to get higher education qualifications in a competitive environment.

What do they have in store for you?
Level of Study: This Scholarship is invited for a funded PhD position. Application Deadline: December 31, 2018
One-year postgraduate degree course provides advanced, comprehensive and practical training in various fields.
Eligible Field of Study:Scholarship is available for pursuing Postgraduate degrees.
Deadline:
February 1, 2019.
The diligent teams of writers at online thesis writing are not only experts in providing dissertation writing services in Pakistan, but also craft research proposals that are mandatory requirements for Post-Graduate and Doctoral Scholarships abroad. They are also highly experienced in writing motivation letters, along with college applications that meet up-to the high standards of different universities. The work you receive from us will surely get you the scholarship you want.
Seek our assistance and PACK YOUR BAGS because getting to your dream university is nearer than you think!
Get More Information about Universities
Top 10 Universities in Pakistan 2019
How To Make Our Education System Strong?