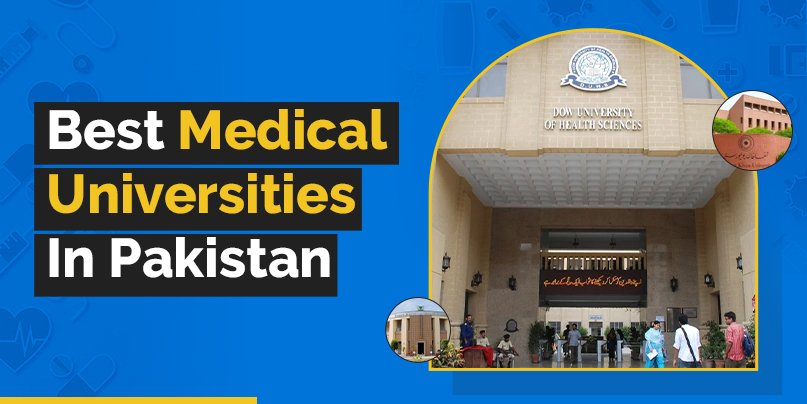 Medicine is one of the most esteemed professions in Pakistan, which is why it is the most pursued one as well. According to a survey; Pakistan produces 32,879 doctors per year and from 114 medical universities situated all across the country. Among these institutes, seventy medical colleges are private institutes while forty are public institutes. With its long history and dedication to education, Pakistan has a number of the best medical colleges that offer rigorous training and instruction to individuals interested in a career in medicine.
If you are also ambitious to join some of the most acclaimed medical universities in Pakistan then you are on the right track because this post is going to shed light on the top medical schools and all the requirements to get into those schools.
What is Criteria For Ranking Of Medical Universities:
When determining the best medical universities in Pakistan, various factors come into play. These factors include;
Academic reputation
Faculty expertise
Research output
Facilities
Clinical training opportunities
Overall contribution to the healthcare sector
Students who have just finished their pre medical must prefer the universities based on the above-mentioned factors. The following list of universities is picked as they perfectly fit into the criteria of the top medical universities.
List of Best Medical Universities of Pakistan
Here is a list of top ranking medical colleges in Pakistan, which will help you select the right one for your career.
A renowned university with a wide range of medical and healthcare programs, Dow University of Health Sciences is located in Karachi. The degrees offered by this institute include:
Students can take thesis help with their respective projects from professional writers to ease their academic load. The university has made substantial contributions to the medical field as a result of its concentration on research and innovation.
King Edward Medical University (KEMU):

Lahore's King Edward Medical University was founded in 1860 and has a long and illustrious history. It has been crucial in influencing Pakistan's medical curriculum. The extensive medical programs offered by KEMU include:

MBBS degree
BDS degree
Various postgraduate degrees

Students can receive practical clinical training and exposure to a wide spectrum of medical issues at the university's affiliated hospitals.

Admission procedure: You must pass the National Eligibility Entrance Exam (NEET) in order to be admitted to King Edward Medical University Lahore. In addition to that; you must have received at least 60% in the most recent MCAT exam.
Age The candidate must be 17+ and under 25 years of age on/before 31st December of your admission year.
Qualification: Candidates must complete 10+2 with at least 50% marks in PCB from a recognized institute or board.
Duration of Course: 6 Years
Fees:

MBBS = 320,933 PKR/Year
Bachelor of Dental Surgery = 320,933/Year
Pharmacy = 267093/Year

Aga Khan University (AKU):

Aga Khan University is located in Karachi and stands as a beacon of excellence in medical education and research in Pakistan. It was established in 1983, and AKU has consistently ranked among the top medical universities in the country. The university offers undergraduate and postgraduate programs in various medical disciplines, including;

Medicine
Nursing
Public health

Admission Eligibility:

Aga Khan University admission criteria are like:

Candidates will be invited to apply online.
Candidates are required to submit their Secondary and Higher Secondary School mark sheets depending on their high school completion status.
All eligible applicants will write an Admission Test comprising two sections: English and Mathematics.
The FAS Admission Test will be conducted across centers in Pakistan and overseas.
AKU Test will be a key determining factor in short-listing FAS candidates.

Fee structure:

Admission Fee- 73,000 PKR
Graduation Fee- 22,600 PKR
Physical Examination Fee - 15,500 PKR
Student Activity - 3,700 PKR
Student Health- 20,900 PKR
Tuition - 1,800,000 PKR
Hostel Fee - 27,500 PKR

DOW University of Health Sciences (DUHS):

Medicine
Dentistry
Nursing
Allied health disciplines

Eligibility Criteria:

Matric / O Level / equivalent examination certificate
Intermediate Science / 'A' Level / equivalent examination
Minimum marks of 60% aggregate in intermediate Science (Pre-medical) / 'A' Level / equivalent examination
Candidate's domicile certificate of district Karachi
Candidate's permanent residence certificate of district Karachi
Candidate's CNIC (Computerized National Identity Card) or B form (if he/she is under 18 years of age).
Candidate's father's domicile of Sindh province on form P-1.
Father's National identity card NADRA with a permanent address of Sindh
An entrance test is mandatory.

Fee:

Bachelor of Medicine and Bachelor of Surgery = 320,933/Year
Bachelor of Dental Surgery = 320,933/Year
Pharmacy = 267,093/Year.

The Foundation University (FUI):

The Foundation University is the project of the Fauji Foundation established in the year 2002 in Islamabad. This University has been rated in the highest-rated category by HEC. If you are thinking that which category FUI belongs to among public vs. private universities, then it is categorized under a public domain.

Admission Eligibility:

Have passed the NUMS MDCAT examination conducted by the National Medical Authority with a minimum of 55% marks.
Obtained a Higher Secondary School Certificate qualification (HSSC) or an equivalent 12th-grade qualification recognized in Pakistan and having obtained 60% or more marks therein, or a higher percentage as may be notified by the Pakistan Medical Commission (PMC).
Passed the subjects of Biology and Chemistry and either Physics or Mathematics in the examination of the Higher Secondary School Certificate or an equivalent 12th-grade qualification recognized in Pakistan. Only the cumulative marks obtained (minimum 60%) in the subjects of Biology, Chemistry, and Physics / Mathematics will be taken for calculation of merit.
Appearance in NUMS MDCAT is also mandatory.

Fee:

Rs. 1,550,000/- per year with an increase of 10% in every subsequent year.
Total charges = Rs. 9,462,905/- (MBBS) Rs. 7,193,550/- (BDS).

Nishtar Medical University (NMU):

One of the first medical facilities to be built following Pakistan's founding is Nishtar medical university located in Multan. It provides degree programs in;

Nursing
Allied health sciences
Medicine
Dentistry.

It bears the name of Sardar Abdur Rub Nishtar who was the founder of the Pakistan movement and former governor of Punjab, Pakistan.

Eligibility criteria:

A student should have 715/1100 in F. Sc, which is at least 60%.
Hifz marks are also included.
Educational documents are checked by the Chairman Admission Board.
The Entry Test for Punjab will be taken by students from Northern Areas and Azad Jammu & Kashmir for admission to MBBS & BDS.
Under 25 years of age is the age limit.
Holders of Punjab domicile.

Fee:

As Nishtar medical college falls under the public domain of institutes is its total fee for the MBBS program is 40,000.

Course duration:

5 years

Allama Iqbal Medical College (AIMC):

Allama Iqbal Medical College (AIMC) is a prominent medical college located in Lahore. It was founded in 1975 and is named for the poet-philosopher Allama Muhammad Iqbal. With Jinnah Hospital as a partner for clinical training, AIMC offers undergraduate and graduate medical education. It is renowned for its dedication to performing medical research and producing qualified healthcare professionals.

Fee:

AIMC is a public institute so its total fee structure for the MBBS program is 1530 PKR per year.

Course duration:

5 years.

Admission eligibility:

All students who completed their FSc pre-medical studies with a grade of 60% are eligible to take the entrance exam for the University of Health Sciences.
A candidate may apply to Allama Iqbal Medical College for MBBS if they receive a minimum score of 50% on their entry exam.

Army Medical College (AMC):

Like many engineering universities established by the armed forces of Pakistan, this medical college was established by the army as well. In 1977, the Army Medical College in Rawalpindi was established. It belongs to the National University of Medical Sciences (NUMS), one of its constituent institutions. The Army Medical College was a part of NUST and Quaid-e-Azam University Islamabad prior to NUMS. It is a prospective institution that is successfully serving the country. Every year, it provides MBBS and BDS degrees to a variety of students.

Eligibility criteria:

Civilians as well as army backgrounds can apply.
Fsc pre-medical or equivalent degree is required.
Passing the NUMS test is essential.
Selection Trough GHQ 100 seats(Only for Males).
Paying Cadets Apply via GHQ Only forwards of army Shadah.
Pay Cadets through GHQ 20 Seats For Males and Females.

Fee structure:

The fee structure for civilians is 183,360 PKR/year for both MBBS and BDS.
The fee for the children of army officials is nearly 100,000 PKR/year for both programs.

Lahore Medical and Dental College:

Lahore Medical and Dental College is a private medical and dental college established in 1997. LMDC has an affiliation with the University of Health Sciences (UHS). Students can take assignment help with their projects if they find it hectic to complete them on time because writing projects contribute to your final grades. It offers;

MBBS
DPT
BDS
D-Pharm
BSc Nursing
Allied Health Sciences
Biotechnology

Eligibility criteria:

A candidate must have passed F.Sc. (Pre-Medical)/HSSC or an equivalent examination from outside Pakistan with three subjects including

Biology
Chemistry
Physics or Mathematics

These are mandatory subjects in which 60% marks in aggregate are required.

A student must have appeared in the Entrance Test (MDCAT) with passing marks (55% in MDCAT) according to PMC/UHS admission policy.

Fee:

Total fee for the duration of the 5-year course program of MBBS is 9,618,052 PKR.
Other Medical Colleges That You Can Also Consider:
Besides the above-mentioned medical college, the following list of medical schools is also highly regarded and appreciated:
Rawalpindi Medical College (RMC).
Khyber Medical College Peshawar (KMC)
Ziauddin Medical University Karachi (ZMU).
Shaikh Khalifa Bin Zayed Al-Nahyan Medical and Dental College Lahore
Bacha Khan Medical College.
Frequently Asked Questions
Which is the No 1 medical university in Pakistan?

King Edward Medical University in Lahore has a reputation as Pakistan's best medical school and was named the nation's top medical school by the Higher Education Commission (HEC) in 2020.

Which institute is best for MBBS in Pakistan?

There is a number of Universities that are renowned as the best MBBS colleges in Pakistan, including:

Aga Khan University.
University of Health Sciences
Dow University of Health Sciences
Isra University.
Zia-ud-Din University
Khyber Medical University.
Baqai Medical University

What is the rank of Allama Iqbal medical college?

Allama Iqbal Medical College is ranked in the number 10722 among the 22382 medical universities across the world while in Asia it is recorded in rank 4071 among 10875 universities.

Which is better Allama Iqbal Medical College or King Edward Medical College?

Even though both universities are counted as the best in Pakistan but if you want to choose one among them then it would be King Edward Medical College. Besides that; the rank of KEMC comes above AIMC.

What is the fee structure for MBBS at Allama Iqbal Medical College?

The yearly fee for the MBBS program at Allama Iqbal Medical College is 15,630 PKR.

How much merit is required for King Edward Medical University?

The candidates will require 65% marks in F.sc Pre-Medical to get admission to King Edward Medical University. Besides; the candidate must have scored at least 60% marks in the latest MCAT exam.

How much does private MBBS cost in Pakistan?

The average private MBBS cost in Pakistan ranges from 680,100 PKR to up to 13,50,000 PKR.

What is the lowest MBBS fee?

The lowest MBBS fee for private institutes in Pakistan is 680,100 PKR annual fees by the Hamdard Medical College, Karachi.

What is the fee of Aga Khan Medical College?

The annual fee of Aga Khan Medical College for the MBBS program is PKR 1,040,400.