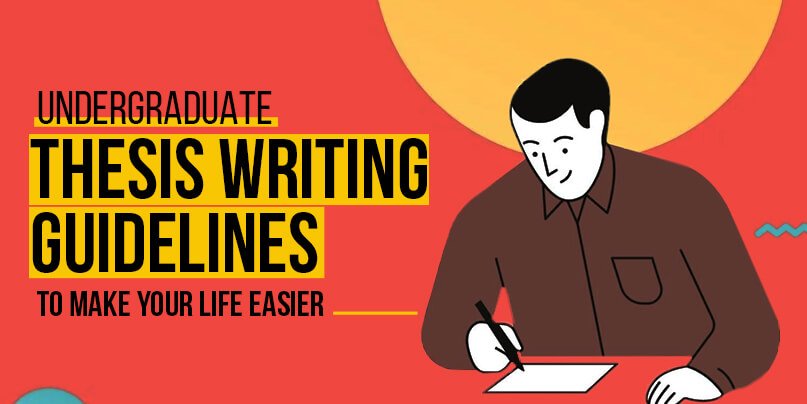 An undergraduate thesis is a significant academic written project that requires an extensive study of the selected topic. It is typically assigned in the final year of your degree program (undergraduate refers to a bachelor's degree). The topic picked depends on the interests of a student.
Every student has a significant hurdle when it comes to writing an undergraduate thesis paper (also known as a bachelor's thesis). Even if you're the best in class, the amount of work, research, and writing you'll have to undertake will be demanding. If you require any additional support, then getting help from a top-rate thesis helper service will be of great help!
What is an Undergraduate Thesis?
An undergraduate thesis paper (sometimes known as a final-year dissertation) is an important piece, like a term paper, that is double or triple the length of a dissertation. It focuses on a specific aspect of a topic and allows for extended research with useful outcomes for the academic field. Some thesis papers or parts of them have even been published in scholarly journals.
A university supervisor, who is an expert in the field, collaborates with the student on each chapter of a thesis paper to develop the appropriate style, adjust the length, and meet all requirements.
What is the difference between an undergraduate thesis and a postgraduate thesis?
There are two types of thesis papers: an undergraduate thesis and a postgraduate thesis. The first one is written in the final year of the bachelor's program. It is normally between 10,000 and 15,000 words. Postgraduate (Master's, Ph.D. program) papers are significantly larger than term papers required in the initial years of study. You can use this extensive guide to discover how long a thesis must be.
Another difference is the level of uniqueness of a work. In any academic work, you must make the research independent and properly cite all sources. However, you are not required to submit ideas and theories that have not before been uncovered. While it is still a thesis paper for an individual, the level of responsibility is decreased.
All you need to do is perform extensive research, produce an outline with all required elements, meet all faculty requirements, and write the paper. A thesis paper, whether undergraduate or postgraduate, is a challenging project to complete. However, high-quality sources, an excellent supervisor, and expert guidelines will help you in polishing it and submit it on time.
You will need to give the following information for your thesis:
Critical thinking.
Extensive research.
Distinct methodology.
Discussion section.
Overall quality.
Formal style.
Before I start, let me highlight that the most important thing you can do for your thesis process is to be confident. Take the initiative, be self-directed, and take ownership of your project and the opportunity. Ask for assistance from the best academic writing service, create a support network of individuals working on their thesis at the same time, and believe that you will succeed. Nothing is more important than self-assurance. Get out there and finish it!
The essentials for planning and writing your dissertation undergraduate.
Step 1: Select a topic
This seems to be self-evident. However, narrowing your focus to one specific and feasible topic can be a highly fraught and challenging task. The topic may be quite broad in the early stages (and these early stages should probably be more than a year before your thesis is due).
At this stage
Concentrate on a specific aspect of your major.
Consider what you would like to study for the next year of your life.
Consider what interests and inspires you.
Consider telling your topic to a group of professors in your department. Is it a good match?
Step 2: Perform background research
Discover who is discussing your topic in your field. Use your library search to find the most recent books and journal articles on your topic. There will most likely be many, which is a positive thing because it indicates you are part of the scholarly discourse in your discipline. Get a couple of the most recent and interesting articles and books, then read them. Take careful notes. Examine their bibliographies. Get an idea of how popular this topic is and how much attention it is receiving.
While conducting this research, your goal is to understand where your study fits in and to get a feel of where you might add your unique voice and perspective to the conversation. Is there anything missing from the scholarship? Can you think of a fresh or different area or methodology to apply to the topic?
Don't panic at this point, and don't read everything you can discover. Making a solid research plan and narrowing your topic comes later. For the time being, just find out your context and start getting a sense of who's doing what and how. Take notes because this might be the start of your bibliography. Take note of how you feel about what you're researching: do you conclude an article feeling more excited and intrigued? Then you're most likely on the right track.
Step 3: Outline/ write a prospectus/abstract
Develop your argument by identifying sub-chapters and essential points to address. In a single paragraph, summarize your topic, methods, and findings. Get the structure and clarity down early on.
Each chapter of your thesis should be written separately, like a shorter essay.
At this stage
Understand what you need to include in your thesis.
Understand your argument.
Understand the literature on your topic.
Know what material fit where in your thesis.
Step 4: Drafting
You now have to write. And you should proceed confidently and simply write the thing. The initial draft does not have to be flawless. It just must be completed and completed well enough to improve upon it and progress into what you will finally submit as your thesis.
Set goals for each writing session, consume more than enough caffeine, ask for the assistance of your friends and community and just get the thing written. In many ways, this is the most difficult stage. Simply think that you can get through it. Finish the task.
At this stage
You should be able to see the shape of the final thesis.
Determine which areas require more research or analysis through secondary research.
Sections of your outline should be checked off.
Write till you're finished.
Step:5 Rewrites
Edit your first draft and send portions for feedback to your adviser(s). Invite your peers to help you in editing. Fill up the gaps in your argument. Work your way through the entire thesis several times, making changes as you go.
At this stage
Seek assistance.
Pay attention to the details.
Implement suggestions from advisers.
Step:6 Proofreading Your Undergraduate Thesis
One of the most important things to remember is before writing any chapter of your thesis or submitting it to your instructor for approval. Common grammatical errors can seriously harm the author's quality as well as his or her seriousness. Rather than proofreading the entire dissertation at once, try proofreading each chapter as soon as you finish it. This will save time and effort, as well as show your professionalism, seriousness, and concern.
Step: 7 Add References
At the end of a thesis writing, it's always a scramble searching to get references. Students should either write all the selected references on a separate sheet or, much better idea, include the reference along with the context. This is not only a time-saving method, but it will also reduce confusion.
Step:8 Finalize
Perhaps you'll have to do an oral defense. Maybe there are formatting requirements for submission. Maybe there is a formal feedback process you need to follow for your school to recognize your thesis. Make sure you take care of any details that need to be addressed. Make it happen and keep track of the progress.
Step:9 Completed
Feel proud of yourself and your accomplishment no matter how lengthy and the agonizing path you take to complete your thesis. Celebrate with your closest friends. Capture the final, polished copy. Spend some time doing nothing and taking a break from your hunched position at the computer. You've completed a thesis!
Chapters of Thesis
A Bachelor thesis can be long or short depending on the number of chapters and the length of each chapter. This determines how long it takes to write and finish a thesis or dissertation.
However, the general format of a thesis remains the same. A thesis's primary chapters are as follows:
Introduction

This is where you explain your thesis's key argument and topic. The introduction should describe why you choose the topic and everything that will be covered in your thesis.

Literature Review

Includes all studies connected to your work as well as gaps in your research that help you create a solid claim and develop counterarguments.

Methodology

The data and methods used to conduct the research are explained in detail here.

Results

All of your study's findings are included here.

Conclusions

Include information on how and why you conducted your research. There is also a summary of the results and a conclusion based on the results.
Wrap it Up
By following the above guidelines, students can succeed in writing and submitting a proper and acceptable undergraduate thesis without any stressful issues or difficulties.
A thesis is a hard procedure. All I can contribute is a reminder to stay endlessly positive and to have faith in yourself and your talents. Know that you own this project and that you are capable of completing it. Best wishes! In the future, expect more in-depth discussions on various aspects of the process.