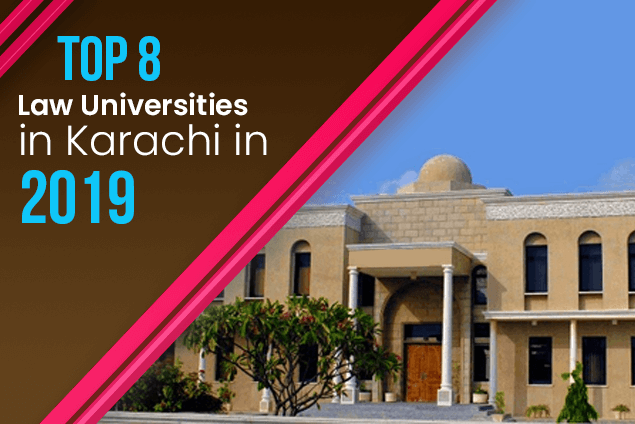 Karachi is known for mainly engineering and business institutions, but a lesser known fact is that know it also has some really great law schools. This list will provide you with some of the best law Universities in Karachi. Being the biggest city in Pakistan and extremely urbanized, it is bound to have wonderfully developed institutes made to polish their student's skills in the best way possible, along with several opportunities to have practical experiences in their field before even graduating.
The following is a list of top 8 law universities in Karachi in 2019.
Dadabhoy Institute of Higher Education
The establishment of this university was fairly recent, in 2003, but that does not make it any less academically excellent. This is truly an honorable mention in the list of top 8 law universities in Karachi in 2019, seeing as this university not only focuses on polishing the student's academics, but also their skills, general attitude along with professional ethics, all of these being extremely important if you wish to go into the field of law. It involves a lot of interaction with other people, thus requiring adequate social skills, and this university will surely help its students with that as well.
They have their own podcast/radio show to keep you up to date with everything going on
Worthy students are offered financial aid so that no deserving student is left behind and gets an opportunity to showcase their skills
Hamdard University, Karachi
The faculty of law at Hamdard University has a very limited student body, so the competition is fairly high. And rightfully so, since it happens to be one of the best options for anyone wishing to study Law for their higher education in Karachi. It very easily makes the list of top 8 law universities in Karachi in 2019. Hamdard University provides students with everything they might need, practically as well as theoretically, to go into law as a professional. Their aim is to make sure their students strengthen the country's legal departments in any way that they possibly can, which is why each year they put out the most academically qualified students.
University Of Karachi
KU is one of the well-known and internationally recognized universities in Karachi. They understand how vital a part legal education is for any institution, and they understand their student's requirements as far as academics go. In order for any society to be civilized, they need to have maintained law and order. This is what the KU School of Law caters to and aims to improve in every way possible. Truly a great choice and a worthy mention in the list of top 8 law universities in Karachi in 2019.
It is one of the best and oldest law schools in Karachi
The faculty is excellent and qualified enough to put out the best students for the field every year
Institute Of Business Management
I used to get confused between IoBM and CBM when I was younger, thinking they were different schools (I know, I'm stupid), but no! CBM is actually IoBM's College of Business Management. Their website shows a very detailed breakdown of everything it has to offer and simply that organization is enough to tell you that they aren't playing around. Of course we are aware of IoBM's international value; it is also recognized by the HEC and is undoubtedly one of the best institutes in the city for any courses that it may offer.
Shaheed Zulfiqar Ali Bhutto Institute of Science & Technology
If you were confused, we're talking about the school of the elites – SZabist. It may be shocking to you that SZabist offers a law course, but it's true! SZabist has a law program (LLB) of 3-6 years. They have a breakdown according to each year and have a very practical approach towards how they teach their students, understanding the importance of practical work along with theoretical studies. This makes the students ready for anything their professional life might throw their way.
Ziauddin Medical University
ZU is one of the leading universities in the country, and while it is mainly for medical education they have an amazing law program that anyone would be lucky to get into and be a part of. This is one of the most important mentions in the list of top 8 law universities in Karachi in 2019 due to its amazing faulty and several years of experience with teaching.
Bahria University
They offer a 5 year LLB program so there's really no easy way out of this one. You have to go all in. However, the added two years (making it a full, proper Law degree) makes it one of the most honorable mentions in the list of top 8 law universities in Karachi in 2019. It spreads for ten semesters and the students that have passed their intermediate/A levels are eligible for admission.
Sindh Muslim Law College
https://www.eduvision.edu.pk/sindh-muslim-law-college-nmlc-karachi-ins-1338008828
What you'll learn at this university will be so enlightening and rich, you won't even think about dissertation writing services online ever again. This may be a tall claim to make, but it's a justified one indeed. It was previously affiliated with the University of Sindh and was established in 1947, as old as the country it's a part of. Its historical value adds to its excellence in the field of law.
ABOUT THE AUTHOR
Dr. Adrish has a PhD from England and uses his experiences from studying abroad to provide amazing thesis writing help to anyone who needs it through his writing. He appears for sessions at different universities and also acts as guest lecturer when provided with the opportunity. He loves to read in his spare time.