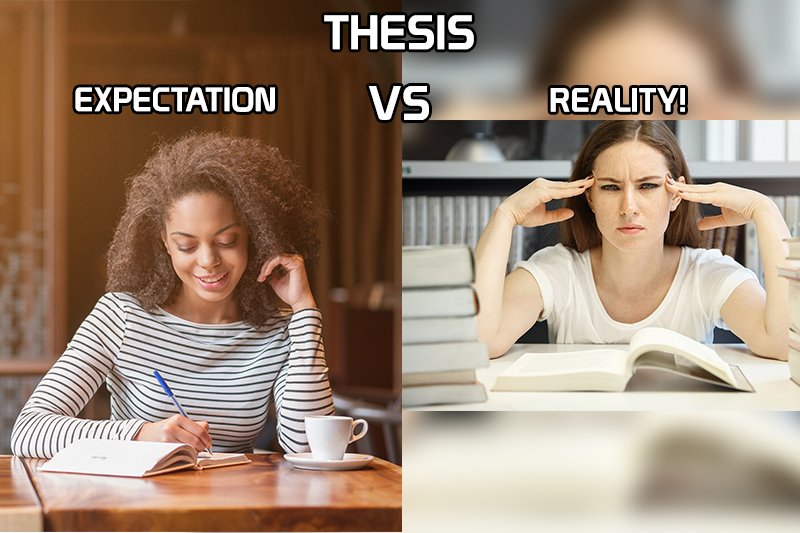 I'm getting an award for the best thesis in my department. My professor told me that it was so great that it's going to be published in an international journal at the University of London. Just as I step on the stage to give my acceptance speech….I woke up from my dream!
A girl can dream right?!
The expectation to get your thesis published!
If there was a single most important and time-consuming research paper that you, as graduating students will inevitably be expected to write, I'd say THESIS.
Students spend extensive months to write this piece of paper that determines whether they'll get the degree or not. The thesis writers providing websites suggest that they put in so much effort into it that they believe that it will be published in an international journal; I mean what could possibly go wrong? At least that's what I had expected!
Then, however, I was struck with REALITY and came to realize some facts that I would like to share with a blog about getting your thesis published to get further insight into.
Consider why academic theories should be applied Add research offering practical suggestions
Significance of research
Timing to publish
Choosing your publisher
Articulate your contribution
Ask yourself:

Is it methodical and scholarly?
Does it hold importance to your audience?
Is the research original and unique?

Researches now are being published online with a creative content license
Most journals have a requirement of only using unpublished content
A peer review is an integral component of publication.

The university and commercial presses are the most common ones.
Some pay you, while others expect a publishing subsidy from you.
It is crucial to get a good sense of the range of publishers

A theoretical gap is required
Your theory matter more than anything
Consider why academic theories should be applied
Add research offering practical suggestions
Selecting the topic for my thesis is child's play!
The initial step of writing your thesis evidently involves you to select the topic. I vividly remember being extremely excited to work on a certain topic in mind but when I went to the professor to get it approved, she said, "It has no significance or contribution to your field of study" and I felt my feet touching Earth again.
Let me tell you this: Topic selection is the foremost important step of your thesis. For this reason, there are lots of factors that need to be considered before moving any further. Not only this but, the thesis structure must also be perfectly constructed, for which you may read my blog on structuring it perfectly!
Be Very Niche-Specific
A good strategy would be to work on a broad topic for your research. For this reason, you can choose specific topics and then explain that in much greater details. This will allow you to express your opinions more vividly. You can also add much greater research and thus, add more significance to your topic.
Do Not Choose Very Common Topics
Your topic needs to be such that it adds value to the community of research in your field. If you choose a common topic, it won't be useful to you or the research community and thus, won't be enough to impress your professor. The E-book writing services suggest that writing your thesis on a common topic will make it difficult to stand out among the crowd. For this to happen, you must choose a unique topic that helps add greater significance to your research paper.
Choose a Topic of Your Interest
This is a crucial aspect of your research writing. You must choose a topic that sparks your interest so that you are genuinely invested in researching for it. If you do not do this and choose a dry topic then it will only cause trouble for you in finding research regarding it. Moreover, having more interesting topics also involves the reader in your research paper.
Pick Two or Three Topics as Back-up
You must always have a backup to ensure that if your main topic isn't accepted, you have more options to choose from. In a few cases, students tend to pick great, novel thesis topics only to abandon them later due to a limited amount of research available.
Explore Through the Resources Readily Available to You
Students often think of the internet as the ultimate guide for their thesis topic. But you will find an overflow of information on the internet. That is why; I would suggest that you first explore the resources that are available to you. This can be your coursework, textbooks, and local articles – especially these since they inform you about local market scenarios and demands, lastly your teachers can be of great help too.
Thinking that you've perfected it in the first go!
My worst expectation was thinking that I had perfected my thesis in the first go. Little did I know that my professor would take out SO MANY errors in my work! It's important for you to understand that you should always keep rooms for revision because even if you don't see it, there will be errors that will be taken out by your professors.
The dissertation writing services bloggers suggest that the errors could be in your methodology, the content written or simply the topic that you've chosen. So, with a heart of stone, you need to be open to recommendations so you can perfect the work!
Wait….you can even use software and online tools?
I was not aware of the fact that there are countless tools that could assist me in the process of writing my thesis. I expected that all of it would be SO easy and that I wouldn't require any external help.
Some of the tools that you can use are the following:
It's a software tool for research purposes that offer many researchers to take advice from.
It's an accessible web search engine that provides scholarly literature for research bases.
If you're looking for scientific research and articles, this can be your go-to. This AI-powered search engine giving access to up to 60,000 articles.
This handy tool assists you in generating citations and gives guidance on citation tips as well.
This AI-powered tool offers an extension on Chrome and corrects your grammatical errors. Its plagiarism checker tool is beneficial to render your final thesis free of plagiarism.
Conclusion:
When writing your thesis, you'll be faced with realities of all sorts that overshadow your expectations. You'll learn a lot on this extensive journey and so, you should always have room to learn more and more. With determination and hard work, you can achieve it all!