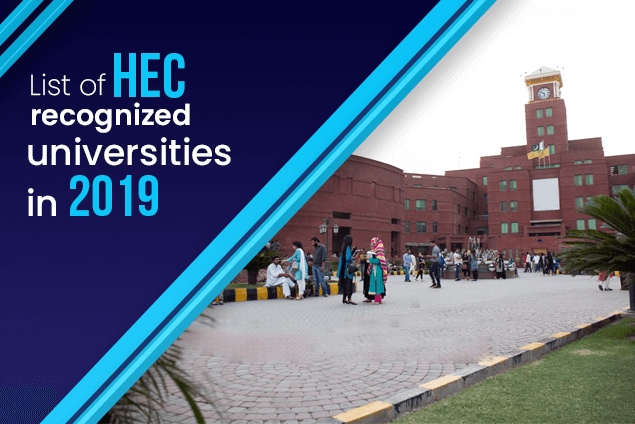 Following is an updated list of HEC recognized universities in 2019.
1. National University of Science and Technology (NUST)
We've all heard the rumors. But no, NUST isn't just for rich, snobby kids with snobbier parents. Its excellent infrastructure and brilliant faculty make for an academic experience you can't miss out on. In a list of HEC recognized universities in 2019, this engineering university would be at the top.
2. University of Engineering & Technology (Lahore)
UET Lahore is one of the oldest Engineering Universities in Pakistan. It specializes mainly in science and mathematics subjects. The university has 35 departments with 7 faculties, making it very diverse. They have a great foreign exchange program where over 500 international students are enrolled annually.
3. NED University of Science & Technology (Karachi)
Located in the urban area of Karachi, not too far and dissimilar from Karachi University, NED is one of the oldest universities of Pakistan. Fun history fact, it was originally established by the British government about a century ago and reached its current status much after.
4. Aga Khan University
This university needs no introduction, being one of the best independent research universities in not only Pakistan, but several other countries all over the world, including Kenya, Uganda and the UK. Prince Aga Khan IV founded it in 1983, and since then it has grown in the medical field as a university which promotes human welfare through research. This will definitely be at the top when you look up a list of HEC recognized universities in 2019
5. University of Health Sciences (Lahore)
The second biggest medical university in Pakistan, it is located in Lahore, Punjab. A high-spirited university which is recognized internationally, the target of many young aspiring medical students in Pakistan. Students come from all over the country to become a part of this amazing institution. What increases its importance and authenticity is the affiliation of all public and private medical and dental colleges of Punjab with it.
6. Kind Edward Medical University (Lahore)
What's better than a university with a potential colonizer name? Amongst the top picks in the list of HEC recognized universities in 2019, it is yet again a place that med students dream to get into.
7. Institute of Business Administration (IBA)
It is an independent university in Karachi, Sindh. IBA was established in 1955 as a business school by the Pakistani government, and since then it has taken its place as one of, if not the greatest business university in Pakistan.
9. SZabist (Karachi)
One of the leading universities for Business management in Pakistan, SZabist also has an amazing media program and is one of the most well-known universities in Karachi. It is diverse and internationally recognized. The relevance it has from being recognized by the HEC, it is an amazing institute to add to your educational resume.
10. Textile Institute of Pakistan (Karachi)
One of the top picks in the list of HEC recognized universities in 2019, TIP is a private institution located in Karachi. You can judge by the name what students would go there for, its main goal when it was made was to support Pakistan's textile industry.
11. Institute of Management Sciences (Lahore)
It was known previously as Pak-American Institute of Management Sciences. It specializes in management and computer sciences and was established in 1987, definitely a must-add to your list of HEC recognized universities in 2019.
12. National College of Arts (NCA)
Ah, the college every Pakistani kid who dreams of becoming an artist when they grow up wants to go to. NCA is the biggest art college in Pakistan, located in Lahore. It claims to be one-of-a-kind (and is, without a doubt). It was established in 1958, starting with 3 major departments which flourished and grew over time.
13. Indus Valley School of Art and Architecture
http://www.indusvalley.edu.pk/
This has to be at the top of the list of universities you want to apply to if you're an aspiring young artist. IVS is one of the most prestigious art schools in Pakistan. It is located in Karachi. The university was established in 1989 and began awarding its own degrees, and was fourth on the list of private institutions to be given a university status.
14. Quaid E Azam University (Islamabad)
It a public research University founded under the Fayaz Act. As the name suggests, it was named in honor of the founder of our nation. Initially, it was only supposed to cater to postgraduate education, but it grew to the post graduate level in the 1980s.
15. COMSATS Institute of Information Technology
COMSATS University Islamabad is a Public University in Pakistan ranked among the top 250 Asian universities by QS rankings in 2014. It has several campuses besides the main campus located in Islamabad. It is ranked among the top 10 universities of Pakistan as per the recent HEC rankings.
16. University of Karachi
Offering a very wide range of courses, with departments spread out over 1279 acres of land, it is a city within a city. It is an internationally accepted University which the government established over half a century ago, definitely a place worth studying at.
About The Author
Azam Khan is a writer and entrepreneur with masters in Psychology. He likes to provide online thesis writing and best dissertation writing services to anyone who might need them and in his free time, he likes to read poetry and science fiction novels.